Matt Breen – Technical Officer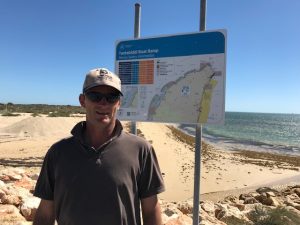 How long have you been with AMOSC?
In November 2020 I will have been with AMOSC for three and a half years.
What is involved in your company role? 
I work within the operations team so my primary function is to service and maintain the AMOSC Oil Spill Response equipment stockpiles. I also assist with training and exercising both at an incident management and incident operations level.
What was your background before joining AMOSC?
Prior to joining AMOSC I worked at BP Kwinana Refinery in a similar role, maintaining a range of emergency response equipment and providing logistical support during emergency responder training.
Before moving into the Oil & Gas Industry I spent about fourteen years involved in fungiculture (Mushroom Cultivation).
What do you enjoy most about Oil Spill Response work?
No two days are the same, whether it be deploying boom from the back of a vessel in open water to aerial observations on board a helicopter. There's a huge amount of variation in our roles here and it certainly keeps us on our toes.
What has been your most memorable moment at AMOSC so far?
There's been many, but being out on a vessel off of the coast of far North Queensland at night and being surrounded by sharks, that's one that sticks in the mind!  
What motivates you at work?
The team dynamic here is great. We're a small group with a large output, and I am constantly motivated by the need to complete my taskings on time to ensure we deliver a quality product.
How do you like to start your day?
Previously I would have said a coffee and a ciggie, but having finally kicked the habit, I'm starting to see the benefits of some morning exercise.
What is a good motto to live by?
Change what you can't accept and accept what you can't change.