Dale Jolly – Staff Profile
How long have you been with AMOSC?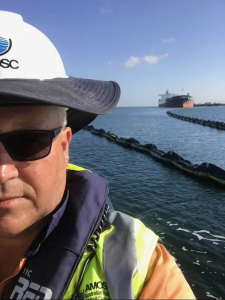 I joined the AMOSC team nearly 18 years ago back in 2002.
What is your role in the company?
As a Technical Advisor – Projects/Safety and Assurance, my role forms part of all aspects of the AMOSC organisation mainly in the area of Operations, and as a supporting advisor to Management and Preparedness.
What was your background before joining the AMOSC?
Wow that was so long ago!
Prior to joining the AMOSC team, I worked as a roving diesel mechanic around Australia and PNG, working in the onshore and offshore operational areas for Halliburton (Oil field service company).
What do you enjoy most about Oil Spill Response work?
All of it to be honest.
I really enjoy being an oil spill responder. From the day to day preparations for the next event, to training either at AMOSC facilities or remotely onsite at member company's operations, through to responding to an emergency oil spill situation.
What has been your most memorable moment at AMOSC so far?
So many moments to choose from, like watching AMOSC grow and adapt over the years to what it has become today, to all of the oil spills I have attended. I really enjoy the relationships gained by working alongside AMOSC members, Core Group and State/National response teams.
If I had to choose a most memorable moment it would have to be the opportunity AMOSC gave me in 2019, to go overseas on a secondment for 6 months to Canada working with Western Canadian Marine Response Corporation (WCMRC).
To be able to experience how another spill response agency work, form part of WCMRC's team and to experience the Canadian culture was amazing.
What motivates you at work?
Knowing that what I do forms a small part of a bigger picture that works hard towards protecting our costal environments for the future. 
How do you like to start your day?
Slowly with a coffee.
What is a good motto to live by?
'Live life to the fullest' or as a famous car racer once said, 'A ¼ mile at a time' (Famous quote from the movie Fast and Furious.)